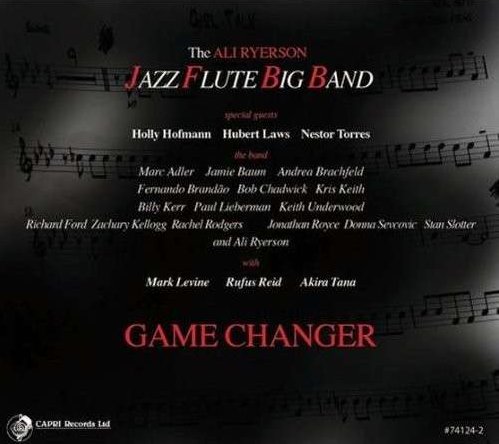 Game Changer (Capri Records, 2013) is as its name implies. The debut release of the Ali Ryerson Jazz Flute Big Band defies convention with a collection of 10 songs by a cross-section of jazz composers but in a different setting.
Ryerson, who plays C and alto flutes, heads a 16-piece section that's backed by a rhythm trio. In addition to Ryerson, the flutists are Marc Adler, Jamie Baum, Andrea Brachfield, Fernando Brandao, Bob Chadwick, Richard Ford, Kris Keith, Zachary Kellogg, Billy Kerr, Paul Lieberman, Rachel Rodgers, Jonathan Royce, Donna Sevcovic, Stan Slotter and Keith Underwood.
With the following exceptions, all play the C and alto flutes. Brandao and Lieberman, C, alto and bass; Chadwick and Sevcovic, bass; Kellogg, piccolo and C; Rodgers, C; and Underwood, bass and contrabass. The rhythm section are Mark Levin, piano; Rufus Reid, bass; and Akira Tana, drums and percussion.